Our series last year was a reader favorite, so we decided to put our prognosticator hats on again and present: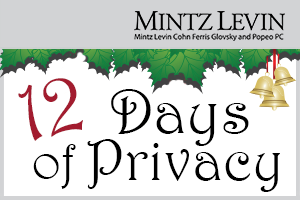 Rather than look back at 2014, starting tomorrow, the Privacy & Security blog will count down The 12 Days of Privacy, looking ahead to what we might expect in 2015 and what we might be talking about in the year to come.
Don't miss a day starting tomorrow!
Day One – 12/9 – Does Santa Claus Have to Comply with EU Data Protection Laws: 2015 Compliance Considerations for Non-EU Companies
Day Two – 12/10 – Through the Looking Glass: Privacy Litigation
Day Three – 12/11 -What the 2015 Proxy Season Might Bring……
Day Four – 12/12 – Cyberliability Policies: What to Expect in 2015
Day Five – 12/15 – California Dreaming … New Legislation Effective January 1
Day Six – 12/16 – Hacks and the State Actor: What Sony Portends…
Day Seven – 12/17 — Questions of Authority: Who is "the cop" on the Privacy and Data Security Beat?
Day Eight – 12/18 – Health Data Sharing – How much is too much?
Day Nine – 12/19 — OCR Corrective Action Planning in 2015: The Gift That Keeps on Giving
Day Ten – 12/22 —Wearables: What will that new gadget be spilling about you?
Day Eleven – 12/23 –ISO and the Courts: How Your Coverage is Likely to Narrow in 2015 (and why….)
Day Twelve – 12/24 –On the Twelfth Day…..
Join us each day as we celebrate the 12 Days of Privacy, v.2014!