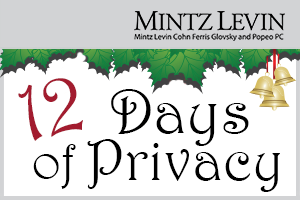 sing it with me now….
Five Golden Rules…….(well, five new privacy laws/requirements)
There are five significant new privacy laws/amendments that will be effective as of New Year's Day — January 1, 2015 — and four are from California. Pull up a chair, brew that cup of tea. It's time to review and prepare.
Three New California Breach Notice Requirements — California led the way with its groundbreaking data breach notification law, California Civil Code Section 1798.81.5. In the fall, Governor Jerry Brown signed Assembly Bill 1710 into law, which makes three significant amendments (one confusing) to 1798.81.5, all effective January 1, 2015. A.B. 1710 effects the following amendments: (i); in the event that the party providing breach notification was the source of the breach, it contains requirements regarding offers to provide identity theft prevention and mitigation services to the person affected by the breach; (ii) it extends the requirement to maintain reasonable security practices and procedures to businesses that maintain the personal information of California residents (i.e., data processors and service providers), not only those that own or license such information; and finally, (iii) it prohibits the sale, advertisement for sale, or offer to sell an individual's Social Security number, other than as permitted by law.
1. Identity Theft Protection Requirement? The most important (and most confusing) amendment appears to establish the nation's first requirement that breached entities provide free identity theft protection services to consumers in connection with certain data breaches. Under certain circumstances, the amendment requires that a company offer a California resident "appropriate identity theft prevention and mitigation" services, at no cost, if a breach involves that individual's name and SSN, driver's license number or California identification card number. Specifically, AB 1710 provides, in pertinent part, that if a company providing notice of such a breach was "the source of the breach":
an offer to provide appropriate identity theft prevention and mitigation services, if any, shall be provided at no cost to the affected person for not less than 12 months, along with all information necessary to take advantage of the offer to any person whose information was or may have been breached. (emphasis added).
Two words – if any – throw the entire appearance of a requirement to provide ID theft prevention and mitigation services into question. Does the amendment merely require that if a company chooses to offer such services it shall do so at no cost to the public for a minimum of 12 months? Does the amendment require that services be offered, and that such services meet the requirement of the amendment? It is unclear, but the latter reading seems to comport with legislative intent. Further, does the amendment require specific identity theft prevention and mitigation or would credit monitoring services fit the bill? There is a significant difference (and a significant difference in cost). We will be looking for further guidance from the California Attorney General early in 2015.
2. Cloud Providers: Reasonable Security Measures Apply to You – The next amendment expands the existing safeguard requirements applicable to "a business that owns or licenses personal information about a California resident". Current law requires that any business owning or licensing PI of a California resident implement reasonable security procedures and practices appropriate to the nature of the information, and to protect that PI from unauthorized access, destruction, use, modification or disclosure — and did not apply directly to third parties, such as service providers, that "maintain" PI but do not own it or license it. A.B. 1710 expands the requirements and imposes the reasonable security requirement directly on entities such as cloud service providers or others that maintain the PI, even if they do not "own or license" the data.
3. SSNs Not for Sale. The final change is straightforward: expanded protection for Social Security Numbers. Current law prohibits (with limited exceptions) the public posting or display of SSNs or other certain acts that could compromise the security of an SSN. Effective January 1, 2015, A.B. 1710 prohibits any person from selling, advertising for sale, or offering to sell an individual's SSN. The amendment also specifically provides that the "[r]elease of an individual's [SSN] for marketing purposes is not permitted." This new prohibition on the sale of SSNs, however, will not apply: (1) if the disclosure of the SSN is incidental to a larger transaction and is necessary to identify the individual in order to accomplish a legitimate business purpose; or (2) for a purpose specifically authorized or allowed by federal or state law.
4. Delaware Companies: Secure Destruction Law — Effective January 1, 2015, all Delaware companies will be required to destroy securely any data that contains "personal identifying information." The new requirements, added as sections 50C-101 – 50C-104 of the Delaware Code will apply to a broad swath of entities and could lead to substantial damages in private rights of action. Under the new law, a commercial entity will be required to take all reasonable steps to destroy or arrange for the destruction of consumer personally identifiable information in its custody or control that is no longer to be retained by that entity. Consumer personally identifiable information includes a consumer's name in combination with that consumer's signature, date of birth, social security or passport number, driver's license or state identification number, insurance or financial account numbers, credit card data or health information, when either the name or the other data element are not encrypted.
To comply with the provisions of the law, the method of destruction must ensure the security and confidentiality of consumer personally identifiable information by shredding, erasing, destroying or modifying the records containing consumer information (including tangible and electronic records) to make them entirely unreadable or indecipherable. H.B. 295 notably does not address the timing of destruction; for example, by requiring that commercial entities destroy consumer personal information as soon as it is no longer required for the purpose for which the consumer provided it. The bill also does not require that the destruction of information be pursuant to a written data retention plan. The definition of "commercial entity" under H.B. 295 makes it clear that the new requirements apply to a variety of entities, including corporations, business trusts, estates, partnerships, limited liability companies and other legal entities, regardless of size or revenue, and including non-profit entities. Limited exemptions under the law exempt include financial institutions that comply with the Gramm-Leach-Bliley Act (GLBA), health insurers and facilities subject to the Health Insurance Portability and Accountability Act of 1996 (HIPAA), consumer reporting agencies subject to the Federal Credit Reporting Act (FCRA) and government agencies. The law includes both a private and public right of action. The Delaware AG, through the Division of Consumer Protection in the Department of Justice, is able to bring an action in the event of a possible violation, including initiation of investigations and issuance of other penalties. In addition, courts are authorize to award treble damages to individuals.
New Year's Resolution: take inventory of where "personal identifying information" is collected, stored and disposed and get disposal, destruction and asset management policies into place in 2015!
And the last "Golden Rule" on this Fifth Day of Privacy:
5. The California "Teen Do-Over Law" – California Senate Bill 568, requires that, at the request of a minor, the operator of any Web site, online service, online application, or mobile application remove all content or information submitted to the operator's site or service by that minor. The so-called "Eraser Button Law" also requires operators of Web sites, online services, online applications and mobile applications to notify minors that they have the right to request that their information be deleted, while cautioning that such removal does not ensure "complete or comprehensive" removal of that information. S.B. 568 prohibits the operators of online services that are directed to minors (or, if not directed at minors, where the operator has actual knowledge that a minor is using the service) from marketing goods or services to minors if those goods or services cannot legally be purchased by a minor.
Note that the Eraser Button Law expands and deviates from the protections provided by the federal Children's Online Privacy Protection Act ("COPPA"), as amended by raising the age bar from 13 under COPPA to 18 under the Eraser Button Law. The law provides certain exceptions to the removal requirement where the content or information was submitted to the online service by a third party (rather than directly by the minor) or where any provision of state or federal law requires the operator to maintain such information.
What to consider?
Does your online service collect information from users under the age of 18? If so, do you have full and complete understanding of what information is collected, and how and where it is stored?
If requested, are you able to separate out a minor's information and remove it? How long would this process take?
Do you have a point-of-contact in place for requests to delete information? Do you have policies in place regarding how to respond to such requests, and have you trained your employees to respond appropriately?
Is there any aspect to your online service that can be considered to be directed toward minors?
Do you sell goods or services that minors cannot legally purchase? If so, are your marketing practices solely targeted toward adults?
Another New Year's Resolution: Review and amend privacy policies and practices if the answer to any of the above questions is "yes".